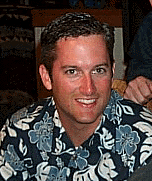 Where I'm from: Grew up in La Canada, CA. Studied at Stanford University and at Stanford-In-Berlin (Germany). Lived in San Francisco and Palo Alto, CA while working for Fogdog Sports in San Jose and Redwood City, CA. Recently moved to Homewood, CA (Lake Tahoe) to wakeboard, snow ski, and enjoy the beautiful outdoors.

Age: 29

Hobbies/Interests: Traveling the world, backpacking/hiking/camping, snow skiing, wakeboarding, Stanford sports, basketball, baseball, weather, anything outdoors.

Why I'm doing this: 28 years has brought me to this. Where is this? Good question. Family, friends, relationships, jobs, education, experiences, travels, etc. Combine all these through the events of life and here I am. What have I learned? What will I learn? What is important in life? Where will I end up? With who? Doing what? I have a few ideas. 28 years of living though, and I still have alot of questions. Just recently, I feel as if I've learned so much about myself yet I know it's the tip of the iceberg. Where will I find the answers? Probably right in my mind, but the world out there will help me out, I think. So, starting in 2001, my friend Carlos and I embark on an expedition. An expedition to travel and see the world but more importantly to find out about ourselves.